About
RC KVARTAL
Building that will become a final piece of the district development concept formed in the '90s.
Appartments that will form new history, lifestyle.
Home - on the same page with modern values.
Kvartal - is not just a space for living it's home. Fitting you from inside and out:
— for workaholics: 5 min to the main business street for you attend the meeting with ease.
— for sporty: a few fitness centers and gyms just 10 minutes apart from you.
— for children: safe and fun playground
— for parents: day-and-night security so you can relax everything is under control
Residential complex located by the adress: Bulvar Centralniy, 26a.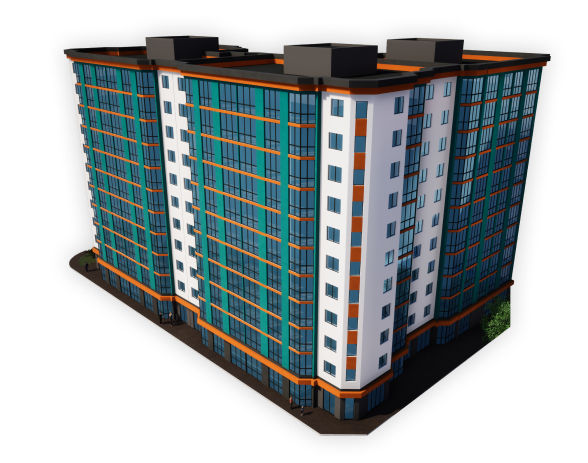 SPECIFICATION
reliable brick structure
unique panoramic windows TROKAL
energy-saving technologies and materials
fast and safe elevators OTIS
individual gas-fueled heating for every apartment
metallic front doors with natural wood covers
security system with cameras and control
1500 m2 territory
155 apartments
55 Individual parking spaces
20 Commercial Premises
MANAGEMENT COMPANY «Comfort 24/7»
Formed to maintain the top comfort level for KVARTAL residents on every stage - after grand building opening, property documents preparing + maintaining the overall building and territory condition.
team of professionals
supporting all systems in the complex
regular cleaning
of public places and timely fixing any damages.
service-manager,
responsible for
solving
all questions before and after the grand opening. From grocery delivery to plumber calls
security
of the homes and terittory - more than
20
live cameras.
MOBILE APP
Comfortable communication with service-manager anytime. Also, the application gives the opportunity to get the freshest news (about the complex), access to the cameras, the ability to save all the needed documentation, make housing and utilities payments.
Property development company "SENSAR Development" - expert in planning, building and maintaining high-class buildings.
Since 2013 we successfully launching projects from private cottages to skyscrapers.
Website